Feeling hungry? Risako, our Japanese and DCU Ambassador takes us on a tour of Dublin's best Asian eateries…
Coming from Japan to Ireland for my studies was a big deal and one of the things I worried about was food! Besides a short trip to the UK in high school, I had never been to any countries in Europe before, so I was concerned about adjusting my diet and if I would find any good Japanese/Asian food in Dublin. I needn't have worried as there are lots of great Asian culinary options to choose from in Dublin. Here are my top places to eat and shop for Asian food in the city…
① Asia Market
Drury Street, Dublin 2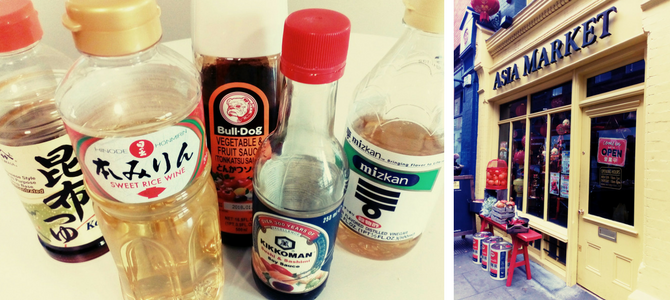 The Asia Market is located near George's Arcade in the south of the city and is easy to find by it's this bright yellow shop front. According to the shop website, the Asia Market has been open for more than 25 years and is one of the largest Asian food markets in Dublin. You'll can find a wide variety of Asian commodities from Mainland China, Hong Kong, Taiwan, South Korea, Japan, Thailand, Vietnam and Malaysia.
These Japanese seasonings (pictured above) are from Asia Market and I also bought Japanese rice here so that I could make Japanese cuisine by myself at home. There are also frozen meats, frozen meals, vegetables, snacks, instant noodles, and so on available in store. If you are a student, you can get a discount by showing your student ID. At the entrance hall, there is sometimes sales corner of bread. This shop is popular not only for Asian people living in Dublin but also for local Dubliners too.
② Asian markets in North Dublin
The Asia Market is located in South Dublin but in North Dublin, there are a lot of Asian grocery stores to choose from. Here's are some of my favourites…
Han Sung Asian Market
22 Great Strand St, North City, Dublin, Dublin 1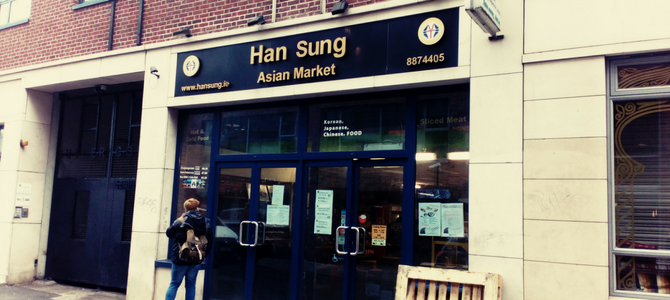 Han Sung Asian Market sells Korean and Japanese commodities. Although the store small compared to other stores, there is also a restaurant in the back. There you can eat most of the plate meals for less than €10! You can choose three sides besides rice and a cup of soup or just order a dish. There is an eating space, of course, so it is a really good place to stop by when you get tired from shopping in the city centre.
Oriental Emporium
30/32 Abbey Street Upper, Dublin 1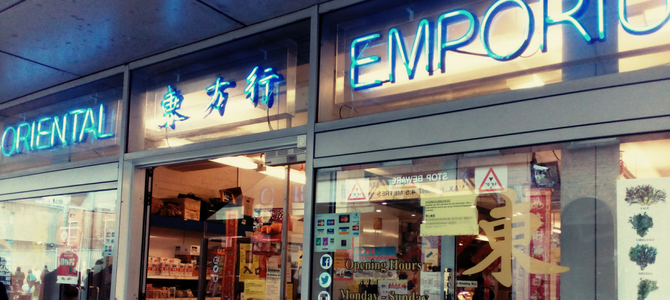 Oriental Emporium is another Asian shopping store in North Dublin. The assortment of merchandise is similar to Asia Market on the South side of the city, but there are sales corners where you can get various kinds of fresh meat and seafood. A deli corner selling dishes and snacks is also placed inside the shop. The shop is located in front of the LUAS station, and Jervis shopping centre is opposite, so it is easy to find!
http://www.orientalemporium.ie/english/shop.php
③ J2 Grill & sushi – Japanese restaurant
North Wall Quay, North Dock, Dublin 1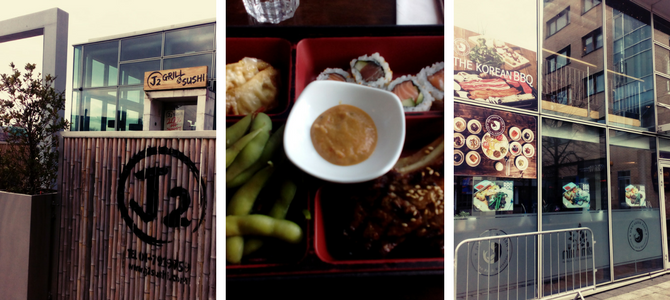 J2 is a Japanese restaurant located near the River Liffey. It is a little bit further away from the centre of the town, but the area has a different atmosphere than other places in the city. The restaurant is glazed so that you can enjoy your meal with an excellent view of the river. Japanese chefs serve good Japanese sushi and meal, and there are some kinds of Japanese sake to try as well.
I ordered Asian BBQ lamb chops and bento and it tasted really good with Japanese Maki-zushi and Asian spicy lamb. There are a wide variety of dishes and bento both at lunch and dinner time, and the side menu is also substantial. It's a nice place to spend time with your family and friends. The price is reasonable compared to other authentic Japanese restaurants, so it is affordable for students.
④ Drunken fish – Korean restaurant
Mayor Street Lower, International Financial Services Centre, Dublin 1
Drunken Fish serves Asian foods including Korean traditional dishes and sushi. The restaurant is within 3 minutes-walk from J2 restaurant. Inside the sophisticated building, you can spend a relaxing time with delicious Korean cuisine and good service. As the taste is authentic, it might be too hot for people besides Korean people!