When she's not studying for her MSc Data and Computational Science in University College Dublin, Ayushree Gangal loves nothing more than a stroll around Dublin listening to the buskers.

Taking in the melodies
When walking down Grafton Street on a sunny (if the weather is not feeling particularly Irish that day) Saturday afternoon, you are all but forced to stop and admire the plethora of melodies around you. From instrumental music to the newest pop songs, there is something for everyone to enjoy.
The buskers (street performers) contribute significantly to not just making the streets of Dublin livelier but also enrich the culture. In fact, the 'Beat of the Street Report' recognised Dublin as the third best city for buskers in the world.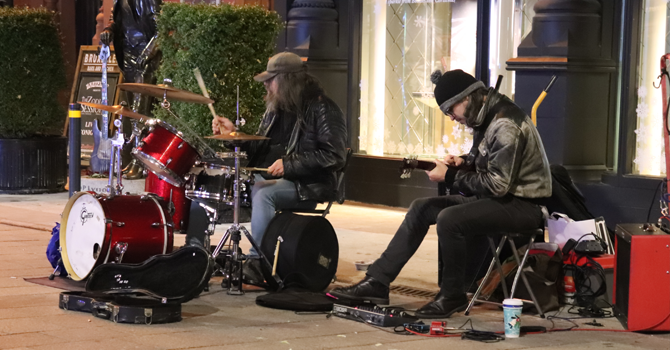 Meeting buskers
I had the opportunity to talk with Elton Silva, an IT student from Brazil who is a regular busker in Dublin's city centre. Having began eight months ago, Elton credits his former classmate for having encouraged him to become a busker. "I try to mix genres so I can reach more people but I consider rock to be my favourite kind of music to listen and play." says Elton.
By-laws
Despite the seemingly informal vibe that buskers emanate on the streets, busking is governed by extremely strict by-laws. There was a time when buskers could set up shop anywhere they liked but those days are long gone as the activity has now been regularised due to complaints about excessive noise. These laws put restrictions on the duration of the performance, amongst other aspects, with special restrictions for buskers performing on Grafton Street.
Elton also explained that buskers need a license to be able to perform and the types of licenses differ in cost depending on whether an amplifier is being used or not, with the cost for the former being thrice that of the latter.
Choosing a street
Elton frequents Henry Street two or three times a week (after checking the weather forecast almost every hour, as is customary for any inhabitant of Ireland). His preference for Henry Street over Grafton Street stems from the fact the busker by-laws are stricter for the latter and one may have to wait for up to three hours to be able to perform there with any performance not being allowed to last longer than an hour.
The crowds they draw
You often see crowds gathered around these amazing buskers taking endless photos and videos of their performances. If you happen to be in Dublin for a short time, I would recommend taking a few minutes out to breathe in the cool air (you know, if the weather permits) and lose yourself in the sound of the streets of Dublin. And the next time you happen to find yourself on Henry Street, do keep an ear out for Elton and don't forget to tap-tap-tappity-tap to his beautiful voice.