It's not all about the big cities when you choose to study abroad in Ireland. Ridhdhi is a PhD student from India and in this blog she give us the lowdown on her favourite things about Carlow town…
It has been three wonderful years since I arrived in Ireland and began my PhD research at IT Carlow. Living in beautiful Carlow town has been a pleasure and it is here that I found a home away from home. Read on to discover my three favourites things about Carlow…
1. Food
I am a foodie and love trying different cuisines. When I first left India, food seemed to be very plain, however over time I've developed a palate for the European and international foods. There are lots of places to eat around Carlow town and you can try Irish, Italian, Indian, Chinese and loads of fast food places.
My favourite restaurants here include the tapas bar Mimosa, Pimento, Bella Vita and Brasserie, however the milk shakes from Eddie Rockets, home-made soups from Quigleys and the fish 'n chip shop are also on my list of favourite places to eat out.
As a student, eating out is affordable in Carlow but for the chefs among you, there are loads of groceries stores for ingredients to create your own dishes. Try Aldi, Lidl, Tesco, SuperValu or Dunnes Stores and check out the Polish, Asian or Caribbean stores too, Carlow has them all!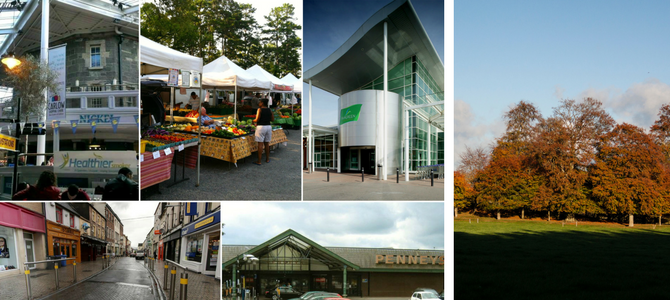 2. Shopping
My next favourite thing to do in Carlow is to shop! I'm on a mission here to fill my wardrobe and if that's not always possible… I go out for window shopping! Carlow has a vibrant shopping scene and there are a wealth of stylish and fashionable shopping centres located in the heart of the town.
Try the Fairgreen Centre or Carlow Shopping Centre for high street fashion retailers, independent stores, boutiques and anchor stores such as Tesco, Supervalu, Heatons and Argos. These centres are also well served by cafes, snack bars and restaurants.
Tullow Street has a number of independent retailers and across the river, you'll find Penney's , a store on the top of my list as a student for fashionable and affordable clothing. Every Saturday, Carlow Farmers Market is held in the centre of the town, and here you'll find a great variety of locally grown fresh produce including fruits, vegetables, cheese etc.
3. Fun things to do in Carlow
There is loads to discover and explore in Carlow. The town is surrounded by mountains, glorious countryside and river valleys along with many pre-historic sites, castles, churches and monastic buildings and routes. Within this beautiful county, a vibrant town, Carlow, offers a rich rural history with a picturesque countryside.
For evening entertainment, the pubs located on Tullow Street and Old Dublin Street open their doors for a cool drink under a warm roof and often showcase lively Irish music. While the modern night clubs such as The Foundry, Scraggs Alley, Tower serve until late with amazing music to rock the dance floor.
Carlow Town also has two multi-screen cinemas, Omniplex and IMC,  which offer student discounts for an affordable and fun night out. The Visual Centre is one of the most impressive arts centre in Europe, is located in the heart of Carlow Town, right next to the Carlow Cathedral. The gallery at Visual Centre displays local and international contemporary art forms with free admission, along with workshops for all age groups and a cinema with diverse range of events, talks, dance, music and theatre on show.
For nature lovers, try the Delta Sensory Gardens, Carlow River Park and Oak Park Forest Park. All amenities are unique in their own way. The Delta Sensory Gardens consist of 2.5 acres of land landscaped by top designers, while Oak Park Forest Park is mature woodland spread over 125 acres of land with boardwalks ideal for leisurely strolls.
Historically, Carlow has played a major role in Irish history as the country's capital in the 14th century.The Brownshill Dolmen is a portal tomb dating from c.3300 – 2900 B.C. with a very large granite capstone; the largest in Europe. The Duckett's Grove  is another beautiful Georgian estate covering more than 5,000 acres of land, cycling to this destination from Carlow town is a great way to spend a day. Other historic highlights include Carlow Cathedral, Leighlinbridge, Rathgall Fort, Borris and the remains of Carlow Castle.