Natasha Madhavan, is an Indian and International Finance and Economics student at Maynooth University, and in this blog she shares five great reasons to choose MU from its great academic reputation to the Harry Potter style campus grounds… 
 The academic advantages:
The most important basis on which we choose our potential future universities are the courses and facilities available to a student. To my luck, I came across the perfect course at Maynooth University and along with it, came the amazing lecturers who are so dedicated to helping you reach your potential. There are many resources such as the Math Support Centre and lecturer office hours to help you progress with your work. I am doing the BA International Finance and Economics course, which lets me study my favourite subjects and also gives me an opportunity to do a work placement in my 3rd year as well! So if you're looking for a particular course, Maynooth University has a wide variety of courses to choose from with the perfect environment to pursue your dreams.
Clubs and societies:
There are over 150 clubs and societies to choose from at Maynooth University, so you can totally indulge in all your interests and explore your options from archery, volleyball and Taekwondo to feminism, St. Vincent De Paul and the LGBTQ+ society. I am especially involved in the badminton club and Enactus society. These activities provide an outlet for your all your skills and potential to thrive. These also give you multiple opportunities in the form of meetings, tournaments, intervarsities, training and much more to elevate your performance and broaden your horizon.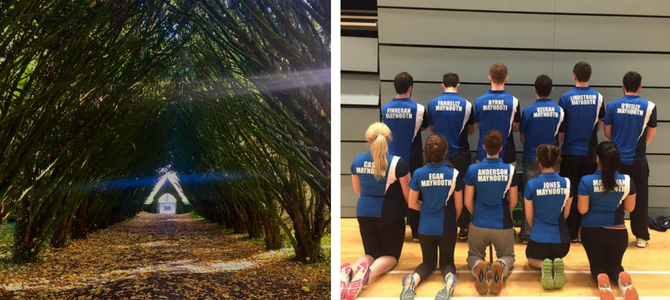 The gorgeous campus
Maynooth University has an absolutely beautiful campus which is divided into South and North campus. South campus looks like it is out of a fairy tale! It's a photographer's dream (In my head, I always pictured Hogwarts, and can you blame me?). The North campus is more modern and has all you need like the sports hall and the common room. However, my favourite place to relax would be Maynooth University's amazing library which has all the facilities you need and is very technologically up to date. (and it has a Starbucks which is just the cherry on top of the cake!)
The people you meet
So I can't even count the amount of incredibly nice and friendly people I've met here because Maynooth is just filled with such lovely personalities. In fact, Maynooth is renowned for its very friendly campus! Every person I've known here thinks that students and the staff over here are so welcoming and I completely agree. Plus, there are so many international students which makes the campus so diverse and exposes you to so many cultures from all over the world along with the Irish culture.
The international office
The Maynooth University International Office has been very helpful to me as an international student! They always respond to my queries so quickly and were really nice to me whenever I needed any sort of advice. To feel like you're at home is very important for international students in a whole new country, and the international office definitely helped me with that process.
So I hoped this article helped some of you out there to get to know more about this wonderful university and also helped you to understand what to look for in prospective universities too!
Visit the website or more information on Maynooth University