Vietnamese student Tran Thi Hoang Yen provides a really comprehensive guide to finding somewhere to live in Cork or in any city in Ireland
Finding a place to stay during your academic programme is perhaps the first priority after you get an acceptance letter for your course. If you're studying in Cork, you may find helpful information about accommodation for students on the UCC Accommodation website.
Housing options
There are different accommodation options for students: university-owned campus, private-owned campus, digs and private rent. In this blog, I would like to talk about the final option: private rental accommodation. It is perhaps the most common option for both national and international students in Cork as the other three are either limited in vacancies (university-owned campus) or too expensive (private-owned campus).

To begin with, I must say finding house in Cork is difficult. It's not surprising as Ireland has been in an accommodation crisis, which means demand is always higher than supply. So, based on my experience, here are a few notes for international students for finding a place in Cork to live in for your academic year.
1. Types of accommodation
There are several ways to categorise private rent house, including:
• Owner-occupied vs. non owner=occupied
• En-suite room (you have your own bathroom) vs. non en-suite room
• Bills included (you pay rent with a fixed amount for bills) vs. bills excluded (normally you split the bills with other tenants or housemates)
I would recommend that you rent a house that is non-owner occupied with bills included. It's better to have an en-suite room, but if you can rent a house with two bedrooms with one shared bathroom, it's not a bad choice.
2. Renting season
The earlier you start, the easier it is to get a house as July and August are the peak months. The beginning of May is a good time as this is the end of the academic year and so many students are going home for their summer break. House prices are also generally cheaper in summer.
Near the end of first semester is also a good time as exchange students return to their countries then, so there are lots of vacancies. If you want to move to another house, you should start looking for somewhere in November, December and January.
3. Rental criteria
In my opinion, these things should be on your list:
• Budget
• Location
• Number of tenants
• House condition
Budget:
Houses in Cork are expensive as the demand is always higher than the supply, so the general rules here are:
• the closer (to the city centre or university main campus), the more expensive
• the more modern, the more expensive
• the more tenants (more people sharing a house), the cheaper.
Location:
As mentioned earlier, the closer to city centre or university, the more expensive. A shared house within 1km walking distance from UCC main campus (College Road and Western Road) could cost €600-€700 a month. The more common price is around €100-€150 per week.
However, it's not always necessary to find a house close to main campus if you are a UCC student as not all students will study their program on the main campus (College Road and Western Road). UCC has many campuses around Cork, so check with the course director or students who studied your program about the location that you will study during your program first before starting to find a house.
When you have the address of the campus where you will study, search for main bus routes that go by these buildings as the bus is the only public transportation option in Cork for travelling from home to school. And bear in mind that it's not reliable all the time. Ideally, you should rent a house with walking distance (less than 2km) from campus or within 5 minutes walk from bus route.
Also, choosing a house nearby supermarkets is also important.
Number of tenants:
Though the rent will be cheaper if there are more tenants, it is also more complicated, particularly if you rent a house with more than five people (sharing common spaces, splitting bills, visiting friends of tenants, etc).
House conditions:
In general, I would say houses in Cork are quite old. For example, my friends live in a house with an old-fashioned hot water shower system that requires coin top-up. It only accepts €1 coins (two 50c coins or one €2 coin will not work). That's just a funny example to show that you should not set a high bar for your house condition.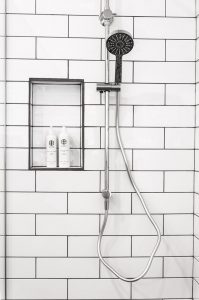 However, there are still some essential requirements that should be checked:
• Heating system: This is a must as the weather in Ireland is pretty cold, rainy and windy all year. It's better to have a gas heating system as it's cheaper compared with an electric heating system.
• Kitchen: It should be well equipped with microwave, fridge, cooker, kettle and fire alarm.
• Laundry: There should be a washing machine and dryer as the weather in Cork is rainy and humid so it takes a long time to dry your clothes by hanging them up.
• Bathroom: Make sure you have a hot water shower (not the "vintage top-up" one that I mentioned earlier).
One item that I found not necessary was a television as most of students have their own laptops, and having a TV in your house means you have to pay a TV licence fee each month.
4. Rental process
The general process should be:
Finding advertisement >> Contacting landlord >> Viewing >> Paying deposit >> Moving in
Finding advertisement:
• There are several channels to find house advertisement, including the website https://www.daft.ie/. You can contact the landlord by email or phone number stated in the advertisement
• Facebook groups
• UCC Student Pad: https://studentpad.ucc.ie/Accommodation
Contacting landlord:
• If you contact the landlord when you are not in Ireland, the most common way is by email or Facebook. But the chance of getting a response is quite low based on my experience. So, if you can have your friends who are already in Ireland contact the landlord, the chance of success is much higher.
• If you are already in Ireland, calling your landlord/housemate is the most effective way to get a viewing appointment.
Viewing:
• When you go for viewing, if possible, you should take a video along with your viewing (or take photos of room condition and house facilities). Politely ask the landlord before doing it.
• Check the condition of your room and house facilities carefully (electricity, water, heating, kitchen).
• During your viewing, you should clarify all information about your rental: payment duration (weekly or monthly), type of bills, neighbours, safety, etc.
Paying deposit:
• Normally the landlord will ask you to pay one month rent deposit to secure the property. It's highly recommended to ask the landlord for a receipt of deposit payment if you pay by cash. It will be evidence for you to ask for return deposit at the end of your rental duration or when you move out. Some landlords will give you the key after you pay deposit.
Moving in:
• On the day you move in, make sure you take a photo of the gas meter, ESB meter (electricity) and record the readings on those meters. It will be used to calculate your bills for the first period here.
• If you are a careful person, you should take photos of house's condition (especially your room) as it would be useful when you terminate your rental and ask for deposit return. The landlords may deduct from your deposit an amount of money for fixing your room, damage so if you have evidence of the house condition on the day you move in, it will be useful.
It's better to have a contract or agreement signed off on the day you move in. If the landlord does not have it, you can prepare in advance. The sample of contract/agreement can be found easily on the internet (see below). Make sure you have a copy of the contract/agreement.
• Always ask for a receipt if you pay in cash. Rent receipt books are available in grocery store.
• Electricity bills from the ESB often come every two months, while the gas bill comes every month. Before paying bills, always ask the landlord to show the actual bills and take photos of it to keep track on your payment.
• In general bills can vary from €25 to €50 per person per month. It's higher in winter as the heating system is turned on.
• Some houses also run on top-up ESB, which means you need to buy an ESB prepaid card and top up for your usage. You can Google for more information.
Each university has Accommodation Service (UCC students have the Student Residential Services Office), so you can contact them for support with finding house, contract/agreement form or any rental related issues.
I hope this post is useful for you as an international student living in Cork. Keep thinking positive and I wish you best of luck on finding a house for your academic programme. Cheers!