Looking for a college environment that combines the bright lights and buzz of the city with a serene and peaceful place to study? Our US ambassador Michelle Galvin and student at Trinity College Dublin tells us why this is the perfect university for those seeking the best of both worlds.
Dublin can be described as many things but calm is probably not one of them. The streets are filled with double-decker buses jammed with passengers competing with trams, taxis, trucks and even the odd brave cyclist willing to take up the battle for precious road space. Pedestrians duck, dive and dodge their way across the city like characters in a 1980's video game. The traffic chaos in the city centre is equal parts appalling and thrilling. In the middle of it all lies my oasis. And once you walk through the narrow, medieval front gates of Trinity College, it's like drinking a glass of cold water after a long trek through the hot tropics.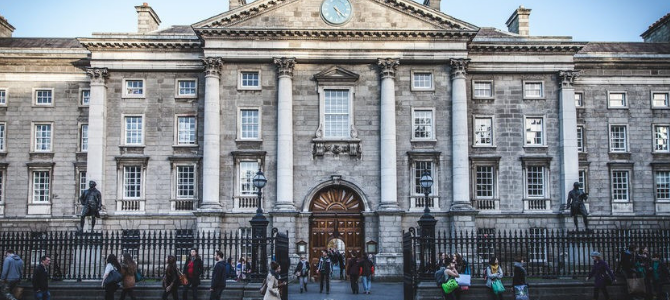 Why do I compare it to an oasis? A wellspring of learning in the midst of a desert of ignorance? Nope, not in Dublin. Eight of Ireland's world-ranking universities are situated in the city. The list is led by Trinity College Dublin (TCD) and University College Dublin (UCD), ranked 88th and 168th in the QS World University Rankings® 2018. The likes of Samuel Beckett, James Joyce, Oscar Wilde, WB Yeats, Ireland's current President Michael D. Higgins and Mr. Leo Varadkar, Ireland's 14th Taoiseach, have walked these hallowed halls. Business-wise, Dublin impressively hosts eight of the world's top ten software companies, operating out the trendy 'Silicon Docks,' comprised of a diverse multi-national, multi-talented workforce. No ignorance here  — this is one smart city! But Trinity is still an oasis of calm in the midst of traffic chaos and of learning in the hub of so much global commerce. Walk through the campus and you feel like you have stepped back in time – about 400 years or so, into a world of cobblestone squares, lush green cricket pitches, ornate buildings and a library filled with some very, very old books.
Top-ranked university in Ireland
In 1592, Queen Elizabeth granted a charter to a group of Dubliners to establish a university on the site of an outlawed Catholic monastery. The university, officially known as the College of the Holy and Undivided Trinity of Queen Elizabeth near Dublin, was modelled after the universities of Oxford and Cambridge. As Wikipedia, rightly states, "a graduate of Oxford, Cambridge or Dublin can be conferred with the equivalent degree at either of the other two universities without further examination." So, come for one and leave with three!
Tourist attraction
Tourists flock through these gates every day — at times outnumbering the students. Most of them are here to see the Book of Kells, an ancient manuscript containing the four gospels and produced by monks around the year 800AD. But there are other books here too – because it's a legal deposit library for the Republic of Ireland and Great Britain, Trinity College is legally entitled to receive a free copy of every book produced in both countries. As a result, it has 6.2 million books – and counting!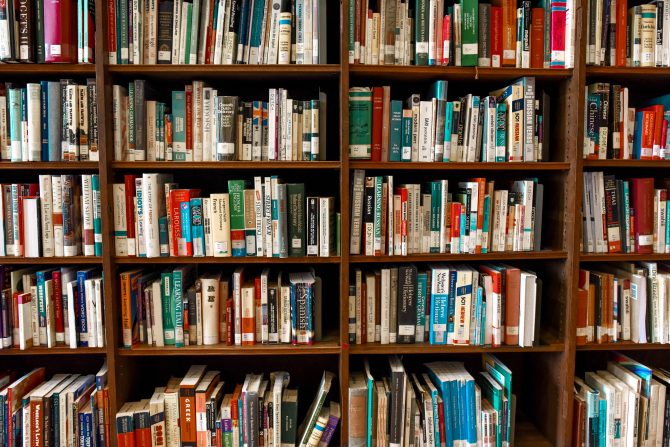 Even with all the tourists, there's still some space for students. Around 16,000 of them attend here, ambling to lectures across its Front Square, day and night. Come to think of it, some of them may be ambling to one of the two bustling bars located on campus. If you're thinking "stuffy university campus", you're wrong – Trinity has a nightlife to match the best.
I'm in Trinity Business School's (TBS), MSc. Entrepreneurship course. This course is ranked first in Ireland and 34th in the World for Entrepreneurship (Eduniversal, 2018). TBS proudly claims 132% growth over the last three years and is also ranked number one in Europe. In a few months, TBS will move its lectures to a striking and contemporary €80 million building on campus. I guess I came a year too soon…
Trinity's motto is Perpetuis futuris temporibus duranturam, which means 'It will last into endless future'. Trinity College will certainly live into the endless future of this alumna's mind and also her heart. I hope you fall in love with Trinity as much as I did.