Chinese student Tan Xiaozhou has embraced all aspects of life as a student in Dublin from soaking up that unique Christmas atmosphere to cheering on the Dubs
I have been in Ireland for three months [December 2019] but it feels like I just arrived at the airport yesterday. The lifestyle here is pretty good. I now live in a suburb of Dublin called Tallaght where the pace of life is not as rapid to that which I was used to. Everyone enjoys their lives. I learn a lot at the local university and enjoy my life at the same time.
Every morning, on my way to university I say hello to the host family and my neighbours. The people always have warm smiles and are very friendly.
University life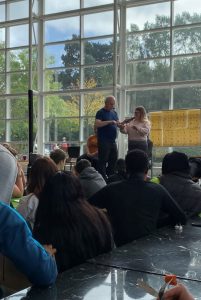 At college, there are always some interesting activities during lunchtime. This show above happened in the canteen. The man in the photo is trying to show hypnosis to us. Honestly, I still do not believe in hypnosis. I have fun watching it. I think that, despite the show taking up room in the canteen and making it hard for some students to find a seat, we still welcome it and wish to watch more.
College activities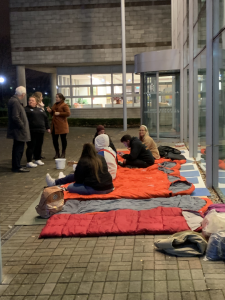 In winter, it gets dark very early in Ireland. The photo above was taken around 6pm beside the gate of the teaching building. You can see that it is cold enough for the man on the left to have to put his hand in his pocket. However, these students had put their sleeping bags on the ground and planned to sleep outside for charity. It is a really challenging activity.
Christmas spirit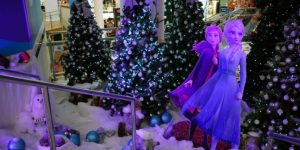 During December, because of Christmas, the Square in Tallaght is always busy. The shops offer many discounts. The Irish like singing and dancing and they are experts at doing it.
Football fun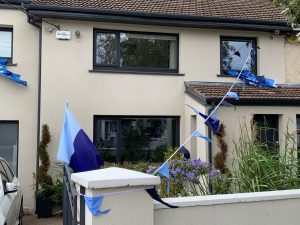 Tallaght is situated in Dublin so every house in the town hangs blue flags representing the Dublin Gaelic football team.
Nature's way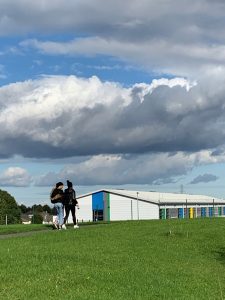 The environment in Ireland is very good. On sunny days, the sky is clear and it seems like the clouds are close to us. Also, it really is green everywhere: trees and grass, fields and mountains.