American student Piper McDonald had quite a journey getting to Ireland, but she learnt some pretty important lessons on the way. Read on so you can avoid what Piper didn't
Until moving to Ireland for college, I had never travelled for more than a handful of hours via plane. Unfortunately, my first journey to Ireland did not go well, and a delayed flight resulted in it taking me three days and five plane flights to get there.
No matter how much I prepared, it was difficult to handle luggage, purchase tickets, power through jet lag, survive long flights and weather airport security. However, after going through this difficult traveling experience, I gathered many valuable takeaways that I can share so you don't have to gain them through misery like I did.
Ticket time
The best time to purchase plane tickets is about four months in advance. It is entirely up to personal preference; however, I recommend taking the fewest number of flights possible. Eleven- hour flights may suck, but your overall travel time will be much smaller. Lots of travel time can be taken up by excess time in the airport.
It is also important to give yourself enough time between flights to get through security and eat food. Travelling can be stressful even when everything goes well, and the last thing you want is to be rushing through the airport to make your plane on time.
Lastly, be sure to choose which type of ticket you prefer (aisle, middle or window) because you will be sitting in that seat for a very long time.
Travel light
Packing, checking in and collecting luggage are simple. When travelling to Ireland I took two suitcases and a backpack, and I made sure the suitcase I did not check in was safe to go through security and that my backpack had everything I needed for traveling.
The most important part of packing is to keep everything as light and simple as possible, and ensuring any precious items are safe. It is also important to remember that there are many things you can purchase in Ireland, such as heavy jackets and winter shoes, that would be best to not bring while traveling.
The only surprise I have experienced with luggage while travelling internationally for the first time is that security guidelines are more restrictive than I expected. It is best to check what is and is not allowed in airport security and being sure that whatever you take with you is allowed. Additionally, it is good to know that you will likely need to go through security at each airport you arrive at.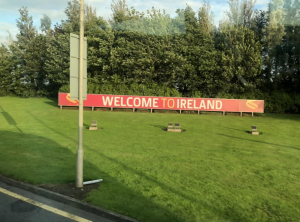 Requirements
As well as TSA security for luggage, there are several documents you must bring to the airport when you are moving to a new country for education. There are different requirements depending on what country you are coming from.
For me, as an American travelling to Ireland, I needed to bring my passport, financial information, and a letter from my school containing my address in Ireland. Your college's international office will provide you with a list of what your requirements are to get into the country and if you have everything you need, there is nothing to stress about.
Once you get your Garda National Immigration Bureau (GNIB) card in Ireland, you may only need to bring your GNIB card and passport with you for travel.
What to do
Most flights which are several hours long will have movies available to watch for free; however it is also worthwhile downloading movies, shows and other entertainment such as games on personal technology like your phone or laptop. Planes have a limited selection of movies, and you should create a list of entertainment that fits your tastes.
Also bring portable chargers so your phone, laptop, or other technology can be used for longer. This also applies to extra time in airports between flights, where there will likely be outlets to charge your devices. Additionally, you can bring books, art supplies or whatever else helps you pass the time.
Something important to be sure to do with extra time between flights is to eat food if your next opportunity to eat will not be for a long time.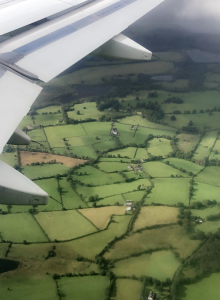 Dealing with jetlag
Typically, jetlag is more difficult when traveling east, which was the case for me going from America to Ireland. My longest flight took off in the afternoon American time and arrived in the morning in Europe, so I slept as much as I could during my flight.
The best approach to beating jet lag is to stay awake once in Europe and only sleeping once it is nighttime there. However, when traveling west, your day will just be a few hours longer than you are used to.
Traveling will be tiring, no matter the time difference, so sleep as much as you can the night before. If you think or know you may have difficulty sleeping on a plane flight, bring items that may help, like airplane pillows, noise canceling headphones, sleep medicine or a sleep mask. Jetlag will pass in a few days but be sure to give yourself enough time to recover.
Traveling will always present challenges, and it can be stressful to make sure you have everything you need, but the most important thing you can do is prepare yourself as best you can. No matter what happens there will always be people around you willing to help, and even if it takes longer than expected, you will get to where you want to be.