Want to know what to expect and what to do when you arrive at DBS? Diana, our Mexican and Dublin Business School Ambassador, has the answers…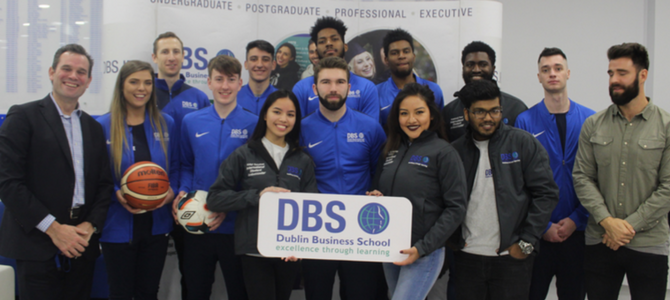 I'm in the midst of my first semester studying for an MBA (Master of Business Administration) with a stream in Human Resource Management at Dublin Business School. The first question I wanted answered when choosing my study abroad destination was why DBS? My short answer? If you are looking specifically for high quality lectures with experienced teachers, or a friendly, inclusive and entertaining environment, this school has it all.
As a second time international student (my first time was in San Francisco, California), my first impression of DBS was that I had arrived at a modern, organised space where everybody was busy and trying to find out what to do or who they should talk to, the vibe here felt youthful and vibrant.
Find out more about becoming an international student at Dublin Business School
During my first week, the main goal was to familiarise myself with the college IT services and platforms – this is where students can manage their personal profiles; view lecture information and gain access to the e-library services, as well as find out more about facilities including the library, student union office, career advisors, IT desk, administrative office, auditorium and classrooms. One of my favourite areas in DBS is the common room, a great place to socialise with other students by playing pool, having a snack or simply chilling while listening to some nice music and laying on cosy couches.
Banks visit the college within the first two weeks to help students open a bank account, an essential thing to check off your international student to-do list. Travel around Dublin is easy, but don't forget to get your Leap Card for discounts on transportation and selected stores.
It's not all about study, so what about going out and having fun? I suggest you approach the student union office and check out the activities on offer; apply to become a Student Ambassador; become the representative of your stream, or join one of the DBS societies – there are ones that focus on drama, psychology, surf, dance, sports, music, marketing, business, film and much more. Feel there is a society missing? Why not propose a new idea!
Once your classes start, you will have the chance to be taught by experienced and knowledgeable lecturers. Currently out of my six classes, I'm enjoying 100% of them because the content is relevant and up to date, the lecturers have great attitudes and the talent to communicate knowledge. Lecturers are easy to talk to, so if you are falling behind or feeling challenged, they are always available to advise you.
Assignments require deep research of your chosen subject, but don't worry if your English isn't perfect – it will improve with practice and what matters for evaluation is that you demonstrate an understanding of the topic.
DBS has provided me with the resources, knowledge and tools to excel in my field of study – offering different channels of communication so inquiries, feedback and suggestions are accessible. DBS creates and supports events that help build each students' network in both a social and work environment. The rest of the experience will be up to you – the attitude and effort that you put into making the most out of the places, situations and people that you are about to meet will mean everything. Me? I am having an amazing experience and if you asked me if studying at DBS is a good decision, my answer would be simple. Go for it!