Interested in exploring Europe while you are an international student in Ireland? Chioma, our Nigerian and LIT Ambassador, visited Spain and in this blogs tells us all about her experience, from visas to hotels…
My first time to travel outside of my native Nigeria was to Ireland, one year before I decided to study for my Masters at the Limerick Institute of Technology. So, as far as international travels go, I am rather unaccomplished. That first trip to Dublin was brilliant, I touched on it briefly in a previous post, but what it also did was whet my appetite to see more of the world. So, as Christmas break 2017 drew near and I realised how long it was going to be, I knew it was the perfect time to travel somewhere new, and I chose Spain!
Before I go on to share my Spanish experience, I should first tell you about travelling within Europe on an Irish student visa, that is after all the intent of this article…
Visas
If you require a visa to be in Ireland like I did, you very likely need a re-entry visa to return if you leave. You can find country specific information about re-entry visas, but whatever you do, make sure you can return before you leave. This cost me 100 euros because I applied for multiple entry and I got my passport back in two weeks.
Schengen countries require a separate visa. Yeah, you probably already know this and I kind of did too, but I did not quite realise how it would affect my visa needs until it was almost too late. Spain is part of Schengen and I needed to obtain a tourist visa from the Spanish Embassy in Dublin to visit. I initially thought being in Europe had me covered but it does not… This does not apply to every nationality, so make sure you check in good time and confirm every requirement before making any financial commitments to your trip.
The visa application process was easy enough, and cost about 100 euros, including a courier to have my passport delivered to me. Going up to Dublin for the submission was a hassle I was happy to avoid. I had my passport back exactly two weeks after.
Flights
Now, the interesting stuff. Ireland is home to Ryan Air; the airline that gives you the most Ah-mazing flying deals in the world. The key to unlocking the best deals is booking long before you fly, especially if you would be flying at peak periods like I did. You could get flights for as low as 20 euros! I did not book so early and I was flying during a really busy time, so my return flight came to a little over 200 Euros, still a good deal considering how much more it would have cost on other airlines. Moral of the story: book way ahead of time to pay less.
Be sure to buy travel insurance along with your flights if you would be needing a Schengen visa. I only got to know my student medical cover doesn't qualify when I went to submit my documents, but the visa officer was kind enough to let me email an updated flight itinerary with insurance included to her.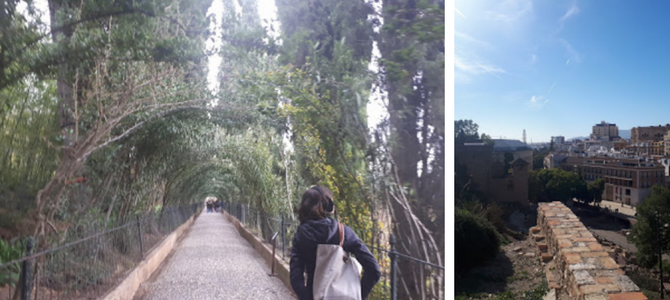 Hotels
My travel companion has a long-standing relationship with hotels.com, so I left this part of the planning to her. She got us good deals on double-bed rooms at 4-star hotels that became even less when we split the bill. The most expensive of the three hotels we stayed at came to about 70 euros per night per person and the cheapest came to about 47 euros. Airbnb is an option if you have a tighter budget, my friend and I did splurge a little.
Local transportation
I found transportation in Spain to be very convenient. I got a train from the airport to our hotel street for less than less 2 euros. Apart from when we moved from one city to another, my friend and I walked everywhere else; we were averaging 25 kilometres every single day! I had never walked that much, and it felt so good.
Now, the actual fun part; I loved Spain! The weather there was a much-needed escape from the cold in Ireland at that time of the year. I arrived in Malaga on the 28 of December, travelled to Granada on the 29 December, returned to Malaga on the 1 January and then back to Limerick on the 2 January!
One of the first things I noticed about these parts of Spain was the abundance of churches, they were beautiful and everywhere. Cities in Nigeria have been said to have too many churches, but I think Spain trumps us!
I also loved the decorations, of people's homes and of restaurants and bars. It was not uncommon to see houses decorated from top to bottom with flower pots, it gave off very warm vibes.
However, my favourite things about Spain were the weather and the food. I could walk around the streets during the day with no coats on like I would do in Lagos, and I had never eaten as much olive oil in my entire life as I did in my few days in Spain, and I loved it. Then there was jamon (ham), so good on toast with fresh cheese, tomato puree, and drizzled with olive oil. And wine was so cheap, we were having bottles of red with dinner every night. It was fun times.
I could go on but this post is getting longer than intended so I will stop here. Comment below if you have any questions, and subscribe to the blog to make sure you don't miss my next post!
Till next post, love, peace and jamon slices!