Alexis is a Marketing student and our Canadian Ambassador. In this, her first blog, she takes us through how she chose Ireland and IT Carlow, and how she feels about it now four months on…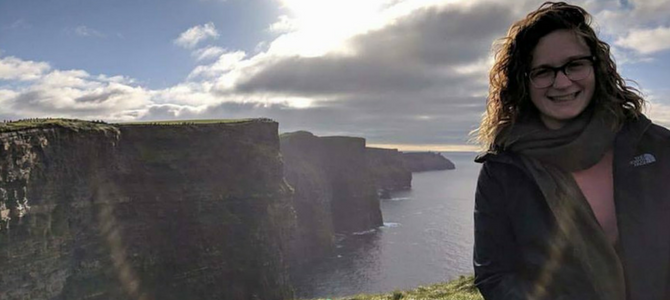 Choosing to study abroad in Ireland has been life changing, and it has only been four months into my year long school journey at the Institute of Technology of Carlow, Bachelor of Marketing (Hons) Program. Let me take you through how I ended up at IT Carlow for my final year of school and hopefully help you with your study abroad decision…
So, why Ireland?
I have always wanted to go to Ireland so when investigating my study abroad options, Ireland was top of my list. Studying in Ireland has many advantages, but while researching the top things that peaked my interest were…
Coming from Canada, you don't need a regular student visa, GNIB is required for Ireland (and it's a heck of a lot cheaper, 300 euros to be exact)
It's affordable. Tuition is actually cheaper in Ireland than it is in Canada
My Advanced Diploma in Marketing undertaken in Canada was easily transferable, meaning I could go straight into the 4th year of the Bachelor Honours of Marketing course at IT Carlow
Culturally, it isn't a complete shock coming to Ireland. They do speak English here, mind you, it is "Irish" English!
In Ireland, you can work up to 20 hours a week as a student, which is nice if you want to pick up a part-time job
My Honours Bachelor Degree in Ireland is the equivalent when I get back to Canada. The only difference is that I will have added international experience – win, win!
It all sounds too good to be true, doesn't it? That's what I thought, but that's when I met Eoin, my international advisor from IT Carlow, he was the guy who truly convinced me that this would be the right decision and really made this whole process an easy one…
I am going to IT Carlow…
After making the ultimate decision to come to Ireland to study abroad the next step was to decide where should I go? Did you know there are 14 Technology Institutes in Ireland, and that doesn't even include the Universities? So how do you pick which one to go to? Well for me it had to do more with the international recruiter that came to my school in Canada. But, overall Carlow was a great choice for me. It was just an hour away from Dublin (so great when you need to get to the airport). It's a small town, which is nice, because I am from a smaller town, so adjusting to life here was quite smooth. Here I enjoy small class sizes, which is similar to Canada and is definitely an environment I thrive in. Lastly was the one-on-one treatment I received from IT Carlow's international department through this whole process. They always made sure everything was going smoothly and if I had any troubles or inquiries were always a phone call or email away, responding immediately.
It's been 4 months, how do I feel…
December is slowly approaching and I have been in Carlow for almost 4 months now! Its crazy how fast time passes by, but it does. And how I am feeling you might ask? I am still loving it! Don't get me wrong there have been adjustments, but I would not trade this experience for anything. I love IT Carlow and all it has offered me so far, with the chance to join sports, clubs, and friends I have met. In my marketing course, we even got involved with local community projects called #WhatisCarlow, which helped promote the town we lived in. And the travelling… Ireland is truly a beautiful country and you need to take advantage of every inch of it. I have not regretted my decision and cannot wait for what the next 5 months have in store for me.
Any more advice?
It's really what you make of it, but here are my top five things to take advantage of your first 4 months of being in Ireland for school…
Relax things will work out just fine, enjoy your time here
Put yourself out there! Meet new friends, it's all part of the experience
Travel in Ireland… everything is so accessible, take advantage
Time management is crucial, things will add up quick
Immerse yourself in the culture (that means not eating McDonald's for all your meals) and try new things!
Any questions? Add a comment below and I'll get back to you.