Pakistani Student Ambassador Farhan Saeed, who is doing a BSc Hons in Interactive Digital Media at LIT, writes about the challenges so many students have faced over the past 15 months
Back in October 2019, I was planning on starting my bachelor's degree abroad for the academic year starting in 2020. I wanted to make plans about everything, where I would travel and what activities and societies I will be a part of. There were so many things I was looking forward to. At that time, I could not have imagined that there would be a pandemic and how severely it would affect my plans. It was in November 2019 when I finalised my decision to go to Ireland among many other options.
Closed down
I paid my tuition fees and started preparing for my visa application between January and February 2020. By 30th January, Coronavirus was declared a global pandemic by the World Health Organization. For me, it was surprising that a small virus outbreak in Wuhan would travel to an island on the other side of the world. This halted my visa application process because all the government departments where I had to get the documents were closed.
A few weeks later, the Irish Embassy in my country was closed as well. So, during that time, I was so confused about whether I would be going to another country or staying where I was. Both options demanded a lot of work and preparation. However, I anxiously waited for the embassy to open again because I had invested so much time and effort into this plan.
Ireland's embassies in various countries opened on different dates depending on how much of this pandemic was controlled in those regions. In Pakistan, they opened in August which was late for my plan. I submitted my documents and waited for six weeks to hear back. The reason I was so worried about my application was this: my classes were starting from 28th September and I was not sure if my application would be processed in due time.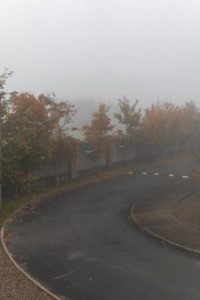 Positive response
However, I did get a positive response on my application by 3rd October, five days after my classes started. With this decision came a lot of problems, regardless of how happy I was. There was a very strict lockdown in Pakistan at that time and there was speculation about Ireland entering into another level 5 lockdown in a few days.
So, I had to do my shopping, packing, booking a flight and residence within a very short time frame which was 5 to 7 days. Amid all of this, I had to get a negative Covid-19 test. My entire plan for the next four years depended on this one test. If this test came positive, I would not be able to travel for the next 14 days. 14 days is the period after which you can go for another Covid test. I speculated that in 14 days, flights to Ireland might be cancelled.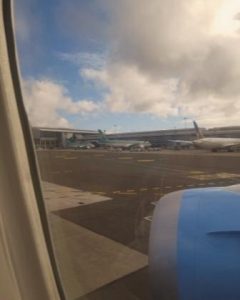 Negative test
At the end, I was happy that everything worked out for me. I booked a room at Cratloewood Student Village, a flight with Emirates, and got a negative Covid test. I was ready to board the flight now. There were only four people on the flight and we became good friends. Everyone told similar stories as mine. I landed at Dublin Airport at noon on 13th October and there were hardly 10 to 12 people at the airport. I have never seen any airport this empty before.
As I left the airport, it was raining a lot and my taxi driver greeted me by saying "Welcome to Ireland" as he leaned on his taxi wearing a raincoat. It was approximately a one and a half to two hour ride from Dublin Airport to Cratloe in Limerick. When I reached Cratloe, I took my luggage and entered the new apartment. Apartment 55.
I was living with a Chinese roommate, Li. He told me all about the apartment, Pinergy meters and Wifi. But of course, even he did not understand all of it as he came two weeks before me. I got a call from the international office at my university saying that they have sent a package for me. It was snacks, pasta, and biscuits. I was so tired at that time that I just ate all of that and slept for 2 days.
Nicest people
So, for the past 3 months that I have been in Ireland during the lockdown, I have managed to meet with some of the nicest people ever. I have made friends with people from dozens of different countries and they are all incredible and talented. I have met with bartenders, athletes, chefs and businessmen. In Ireland, everyone can strike a conversation with you while walking on the street. They all have interesting stories to tell.
My day in Limerick during term time goes something like this. I wake up at 8:00AM everyday. I make my breakfast, something that I've rarely done in my home country, and prepare for my 9:00AM lecture. My classes end between 3 to 5 PM. Then I go for a jog, call my mom, complete pending projects and exercise at home. Since I am not a good cook, I either make noodles or order something from Just Eat for dinner. During the weekends, I go for photo walks within a 5km radius and work as a web designer for a local business.
Though I understand everyone must stay indoors and therefore, I will not be able to experience true Irish culture, I hope everyone is safe and healthy during this time. Soon when this is all over, I will continue with my plans that I made, Pre-Covid. Overall, I am very happy with my decision to choose Ireland.
Here's to the next three and a half years!
Farhan is pursuing a BSc Hons in Interactive Digital Media at Limerick Institute of Technology